Locs Rose-Water Refresher Spray | 8 oz
Regular price

Sale price

$12.99
NOURISHES & MOISTURIZES

One of our best-sellers is our daily refresher spray for your locs and hair that will keep it hydrated and smelling amazing throughout your day.
Our Rose Refresher Spray, a must-have for those with locs! Infused with the power of rose water and rice water, this refreshing spray is specially designed to add moisture and nourishment to your locs/dreadlocks, while also keeping it smelling fresh and delightful.
Our Rose Refresher Spray is perfect for daily use, as it is formulated to provide your hair with the much-needed hydration it requires to stay healthy, soft, and manageable. The rose water in the spray helps to soothe and calm the scalp, while the rice water works to strengthen and fortify the hair strands, reducing the risk of breakage and split ends.
Not only does our Rose Refresher Spray keep your locs moisturized and healthy, but it also adds a natural shine and luster to your hair, making it look and feel more radiant. Whether you're out and about or just lounging at home, this spray is the perfect way to revitalize your locs and keep them looking their best. 
So, what are you waiting for? Add our Rose Refresher Spray to your daily hair care routine and experience the power of rose water and rice water for yourself!


Adds Moisture: Locs can become dry and brittle over time, especially if they are not properly moisturized. Using a moisturizing spray helps to add hydration to your locs, keeping them soft and supple.

Prevents Breakage: Dry locs are more prone to breakage, which can be frustrating for anyone looking to grow out their hair. A moisturizing spray helps to prevent breakage by strengthening the hair and reducing the risk of split ends.

Soothes Scalp: Locs can be heavy, which can put pressure on the scalp and cause discomfort. Moisturizing sprays often contain ingredients that help to soothe the scalp, reducing irritation and inflammation.

Enhances Shine: Healthy locs should have a natural shine and luster to them. Moisturizing sprays can help to enhance the natural beauty of your locs, making them look shinier and more vibrant.

Improves Manageability: Moisturized locs are easier to manage, as they are less likely to tangle or become frizzy. Using a moisturizing spray can make it easier to maintain your locs and keep them looking their best.
SCENT:
Elevate your locs game with a spritz of our enchanting rose water refresher spray - available in 7 irresistible scents that will make heads turn and noses dance.

Give your locs a delightful treat by spritzing our rose water refresher spray, immersing them in a symphony of scents that evoke confidence, beauty, and a touch of mystery.

Indulge your senses and let the captivating aroma of our rose water refresher spray transport you to a realm of self-expression, where your locs become a fragrant masterpiece that sets you apart.

Unleash your inner goddess with our rose water refresher spray - the perfect accessory to infuse your locs with the essence of sophistication, leaving a trail of irresistible scents wherever you go.
PROUD TO BE:

Silicone-Free

Alcohol-Free

Paraben-Free

Sulfate-Free

Vegan-Friendly
Warning:
For external use only. Avoid contact with eyes. Keep out of reach of children. Ingredients may vary in color and consistency. If irritation occurs discontinue use. Consult a physician if irritation persists.


*Scents vary by essential oils and ingredients used. Please inquire if you are allergic to certain ingredients.
*The refresher sprays may also differ in color based on the scent.
FOR ALL LOC STYLES

Our loc line works for every loc style. Traditional, Sisterlocks, Freeform Locs, Microlocs etc and for every stage of your loc journey.
HOW TO USE

Shake things up and spritz our tantalizing rose water refresher spray onto your dry or damp locs, embracing the luxurious scent that will make you feel like a million bucks.
Hold the bottle about 6 inches away from your locs and lightly mist them, allowing the captivating aroma to envelop each strand and unleash your inner beauty.

Gently massage the refresher spray into your locs with your fingertips, letting the nourishing and refreshing properties work their magic, while adding a touch of playfulness to your routine.

Step out with confidence everyday, knowing that your locs are moisturized and infused with the irresistible scent of our rose water refresher spray, captivating everyone you encounter and leaving a trail of pure allure in your wake.

Can be used daily and twice a day if necessary to retain and add moisture to your crown.

INGREDIENTS

Water (Eau), Rosa Centifolia Flower Water, Oryza Sativa Bran Water, Hydrolyzed Wheat Protein, Persea Gratissima (Avocado) Oil, Ricinus Communis (Castor) Seed Oil, Polysorbate-20, Polyquaternium-7, Phenoxyethanol, Panthenol, Hydrolyzed Keratin (Formaldehyde Free, No Straightening Properties), Prunus Amygdalus Dulcis (Sweet Almond) Oil

SCENT

7 Signature Scents:
Rose
Pineapple
Caribbean Vibez
Strawberry Guava
Fresh Apple
Cherry Blossom
Pomegranate Pear

Summer Collection:
Jasmine
Lemon Orange Zest
Peppermint & Rosemary
SIZE
SHIPPING INFORMATION

We ship in 24-48 hours Monday-Friday
Share On Social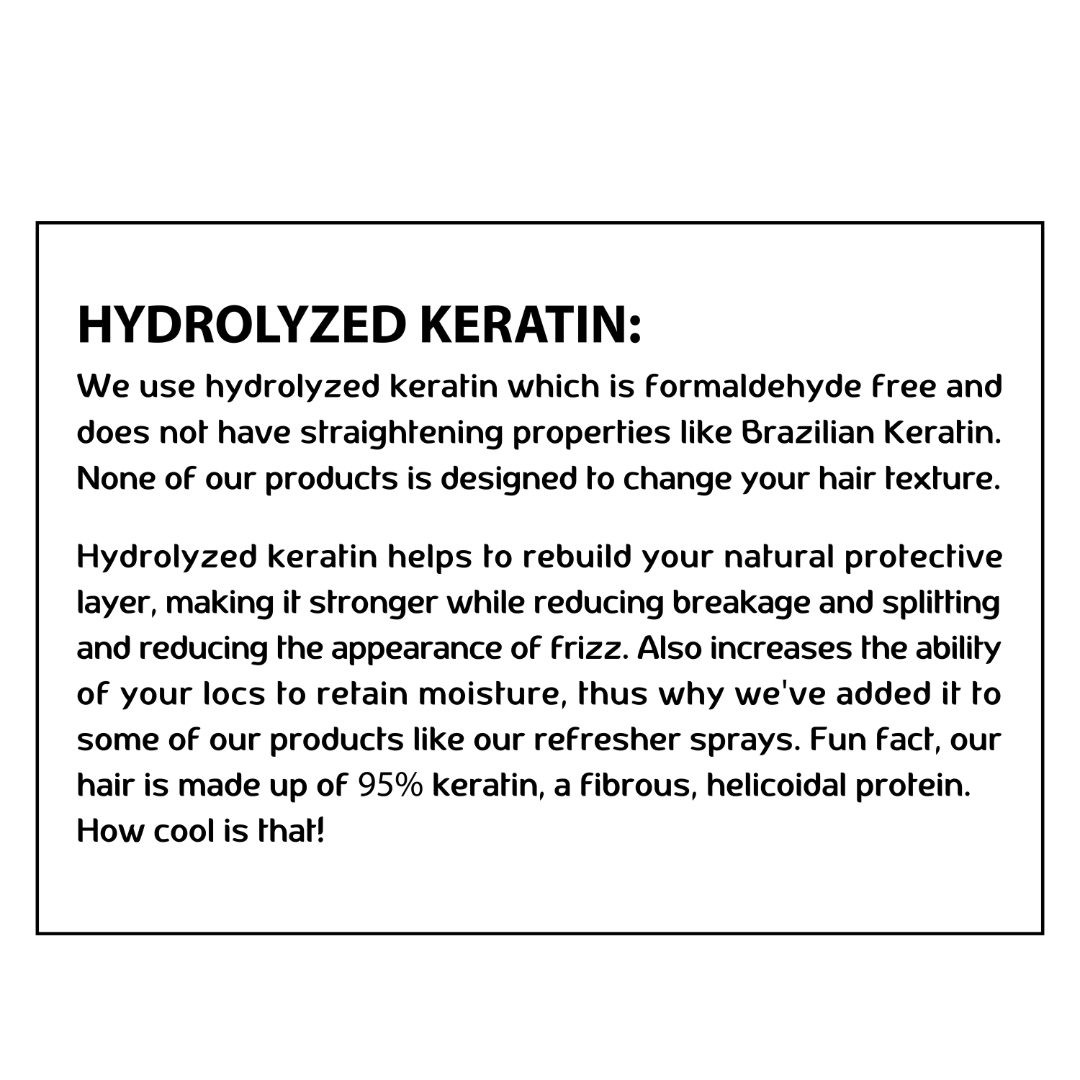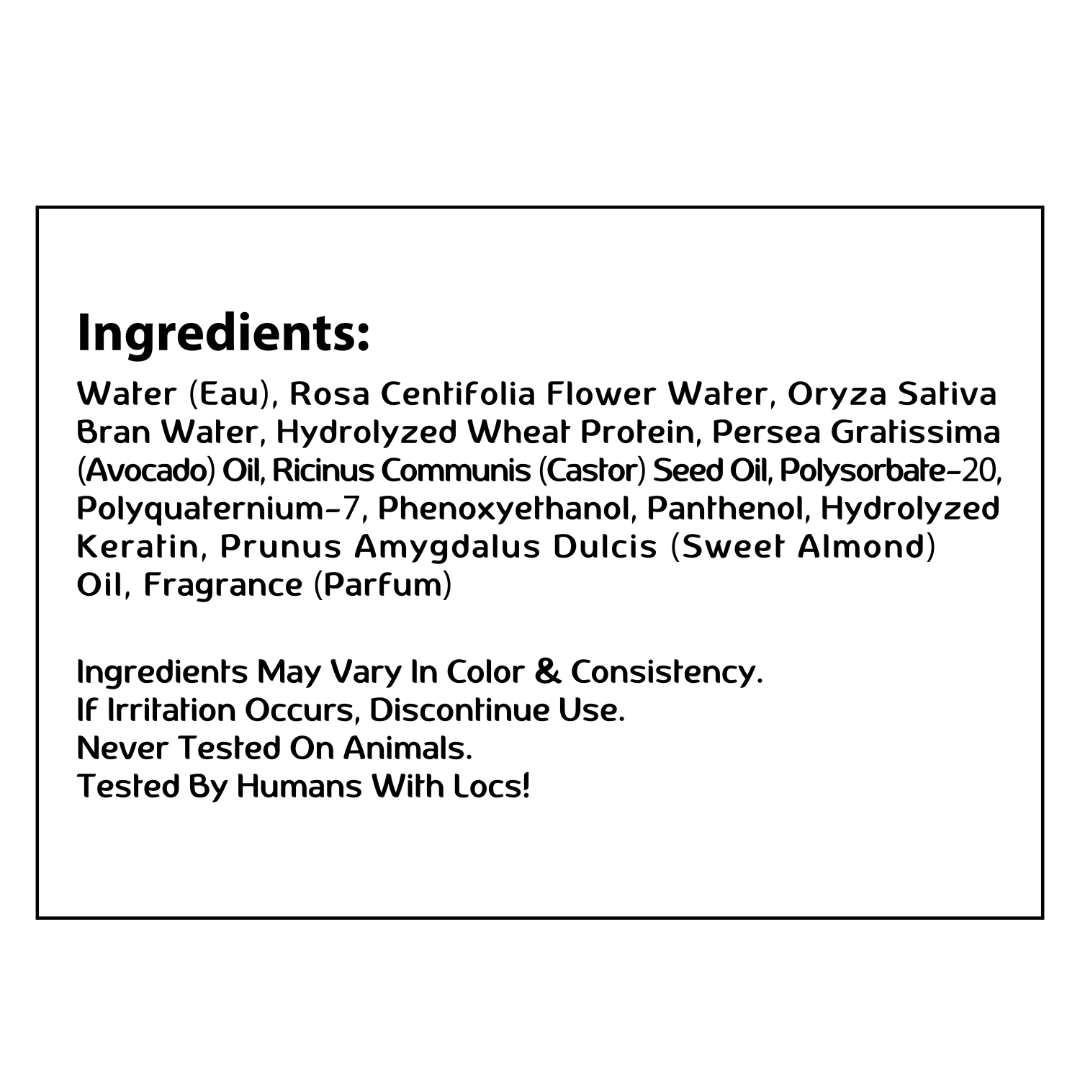 Excellent products
This will be the only product I will use in my hair from here on out. Before using MFL products I always had to spray my hair with my water and essential oil mixture before putting any product on it. Without it the product would feel sticky in my hair and would feel dry within a few hours. With MFL that's all I put in my hair. My hair has been soft and very moisturized throughout the whole day. Definitely struck gold with this one.
I just received this refresher spray and I love it already! My locs are soooooooo soft and they feel lighter. The spray smells really good too by the way. I am a customer for life!
Love this spray!
It doesn't leave my hair feeling sticky and I can literally use it everyday.
Worth it
I love this spray. The smell is amazing and the spray bottle is perfect. I use it daily
Great product
First time trying these products and I must say I'm impressed! Smells great too! I will definitely purchase again and this time get the loc brush I forgot. Well done 👍🏽
Why Choose Us?
Clean Beauty Brand

Clean locs product with safe and transparent ingredients.

Worldwide Shipping

Yes, we ship globally with the best shipping rates from our shipping partners.

Sustainability

Our signature shipping boxes are fully recyclable and can be reused.

Build-Up Free

Say Goodbye to over 2000+ ingredients NOT equally created for your locs.
FAQs
What is the products shelf life?

Approximately 2 years and listed on each product.
What if I'm allergic to an ingredient?

When using our products for th first time we recommend doing a patch test. Ingredients may have been derived from soy, wheat, and/or nut products. They may have also been produced in a facility that makes those products. So please review the product pages and/or labels for your allergens prior to your first use and/or purchase.
Do you offer samples?

We do not offer samples but feel free to email us at info@madeforlocs.com with questions about our products.

Your Crown Deserves The Best!